Events
Visit this page periodically to stay informed of upcoming events. 
Check out our events to see why you should join our cause. We need your support to achieve real change in the fight for justice and equality for all. To learn more, click on the links below. 
Rally For Medical Freedom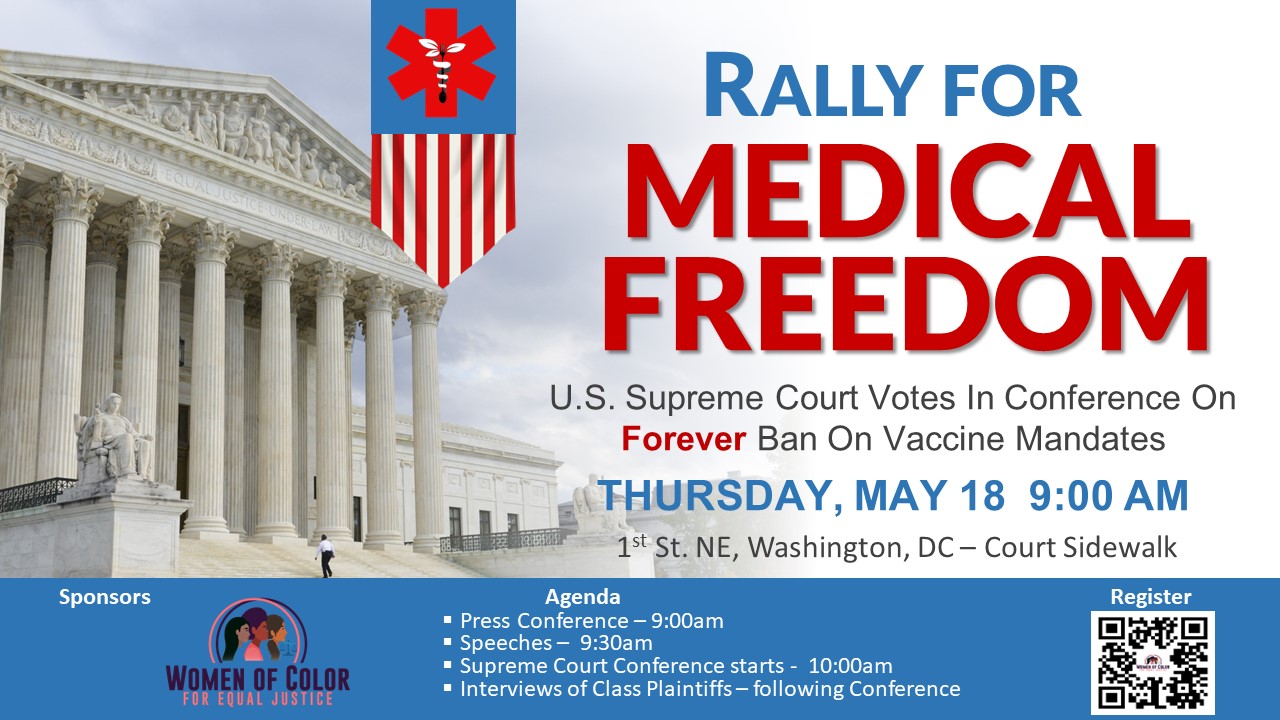 All are invited to attend this historic rally, press conference 1hour before the U.S. Supreme Court takes a vote on whether to rule in favor of Medical Freedom and Religious Liberty.  A court house tour will follow.  The Women of Color for Equal Justice has a pending Emergency Application to forever ban all vaccine mandates nationwide that was originally submitted to Justice Sotomayor and rejected, and resubmitted to Justice Kavanaugh who took the case and submitted it to the entire court for a closed conference vote on May 18, 2023 whether to:
1) convert the application to a writ of certiorari in order to grant a public hearing for the court to rule on the merits of all the legal issues, or
2) concur with Justice Sotomayor's rejection of the application and the entire court will deliver written opinions wherein the justices can dissent or concur in full or in part.
The vote of only 4 out of the 9 justices are needed to convert the application to a certiorari to get a full public hearing under option #1.
If option #2 is taken by the Court, then the case is remanded to the lower court with direction from the various opinions of the justices on how to resolve the City of New York pending motion to dismiss and the Plaintiffs pending motion for summary judgment in their favor, which are now before the New York Eastern District.
Either way the case is not over.
We need freedom fighters to rally on the sidewalk of the Court to show our support of option 1.  This case deserves a full public hearing to determine if all vaccines mandates can be forever banned based on the clear law contained in the Occupational Safety & Health Act and the Free Exercise and substantive Due Process clauses of the Constitution. This case could resolve all legal issues related to medical freedom forever and provide clear direction regarding the rights of citizens and doctors and the authority of government and private employers during any pandemic.
This is a high stakes case and the most precious civil liberties  – one's faith and medical treatment are on the line for all Americans. If the court issues a forever ban on vaccine mandates, the Court would be following the law which has been for over 70 years, which only authorizes federal, state and private employers to educate citizens about the various treatment options during a pandemic and make available various treatment options and not to force people to take a treatment they do not choose to receive.
Register for this event and share this page.
Thursday, May 18, 2023
AGENDA
Press Conference – 9:00 AM
Speeches – 9:30 AM
Supreme Court Conference starts – 10:00 AM
Interviews of Class Plaintiffs – following Conference
Tour of Court house for 1 hour
---
LEGAL ISSUES TO BE ADDRESSED
Whether the OSH Act contains a  "forever" ban on federal, state and private sector employer vaccine mandates in the entire U.S.
A Class of New York City workers from the Department of Education, Sanitation, Administration, Transportation and NYPD are challenging the authority of the City of New York to mandate Covid-19 vaccine and challenging any employer vaccine mandate for any reason under any circumstance based on the OSH Act, which since 1970 when it was enacted has protected all workers and persons in public places right to refuse any vaccine or immunization based on religious grounds.
Whether the OSHA Act expressly provides all employees a statutory private right of action against any person who wrongly terminates any employee for exercising their First Amendment Free Exercise right to refuse any vaccine, not just the Covid-19 vaccine, which has been the law for over 30 years.
Whether the OSHA Act mandates all employers to give "automatic exemptions" when any employee makes a request based on religious grounds and the employee is not required to explain their religious belief, nor obtain a clergy letter. The OSHA Act contains no language that places pre-conditions for obtaining an "automatic exemption" and employers have no right to refuse a request.

The Women of Color For Equal Justice Chief Legal Officer, Jo Saint-George, also argues that all citizens (regardless of religious beliefs) have the right to refuse vaccines and choose their own medical treatment, including the right to choose Plant-based Lifestyle Medicine or plant food/herbs as an option over vaccines because the U.S. Supreme Court decision in the 1905 Jacobson v. Massachusetts was overturned by several Congressional enactments, including by the OSH Act, which a that time allowed states to limit individual medical freedom.
If anyone thinks they may have a claim or wants to join the class of plaintiffs, they can contact the Women of Color for Equal Justice at 301-447-3600 and email jo@woc4equaljustice.org – Click Here to complete the questionnaire.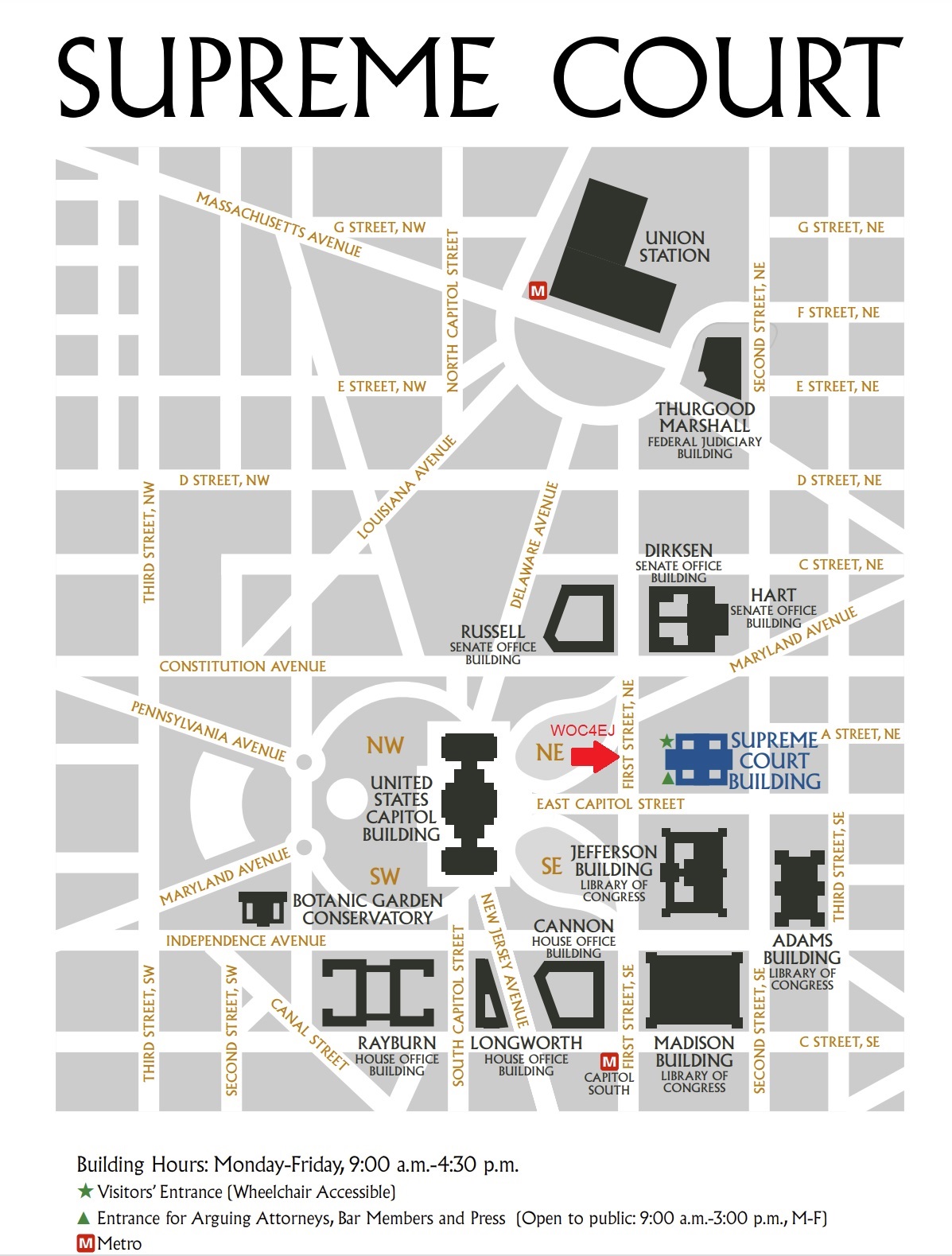 WOC4Equal Justice is an Affiliate of the Madison Economic Development Corp. 501(c)3 EIN #261289930.
© 2022 WOC4Equal Jutice. All rights reserved.
Address:
14216 Dunwood Valley Dr
Bowie MD 20721-1246
Call Us:
Office: (301) 447-3600